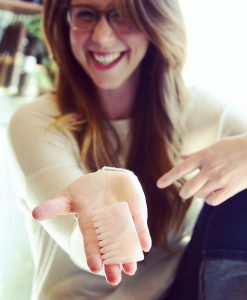 Look at the photo and absorb the magic. I am taking the loving vibration of Andi and the Rose Quartz Comb straight into my heart and can feel it expanding right now.
I am so grateful that Andi and I connected on a Full Moon day in the beginning of the year. Now  many months later the Rock Crystal, the Amethyst, the Rose Quartz and the Black Obsidian Comb are again available to you under Andi's exquisite guardianship and playfully healing knowledge of hair, auras, energies and life.
May the CrownWorks Combs cleanse, transform, heal, enrich, and beautify many beings for the highest good of all!