The New Year 2018 lies ahead of us. The theme of Earth is dominant in Western Astrology as well as in Chinese Astrology. The Year of the Brown Dog starts on February 4th, 2018, and the Chinese New Year begins on February 16th, 2018. The brown dog stands for the element male Earth, represented in nature by mountains, soil, and rocks. Saturn has entered its own Earth sign of Capricorn on December 19th to begin a 3 year phase. And on May 16th, Uranus will move into the Earth sign of Taurus, for the next 7 years.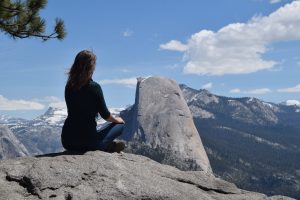 Imagine yourself sitting and looking at mountains over mountains to get an idea what this year might be all about. Major themes are stability, security, saving, agriculture, farming, land real estate, territory and as a mental focus discipline, patience, and perseverance.
Envision yourself being on top of the mountain and feel the closeness to both, the Earth and the Sky. This will be a year to revisit and explore your spirituality.
I wish you a rock solid and powerful New Year!